RED OR BLUE? (2016)
Comedy (10 minutes)
Characters
Laura (f)
Harry (m)
He said it was red, she said it was blue. And neither is going to let it go.
This comedy play takes a simple, apparently innocuous argument and follows it through to its violent conclusion.
It was first staged at Hackney Showrooms by Itch and Scratch in May 2016. Further performances followed at Theatre N16 in Balham in September 2016 (Second Sons Theatre), Southwark Playhouse in March 2017 (Velvet Trumpet) and Ten Dome at the 2017 Edinburgh festival fringe (Comedians Theatre Company).
The play then reached the final of the 2017 British Theatre Challenge and was performed at Stockwell Playhouse in October 2017 where it finished runner-up in the audience appreciation award.
Red or Blue? was published by Lazy Bee Scripts in January 2018.
THE WOMAN IN THE RESTAURANT (2017)
Drama (7 minutes)
Characters
Female (mid 40s)
'She was sat outside on her own when I noticed her.'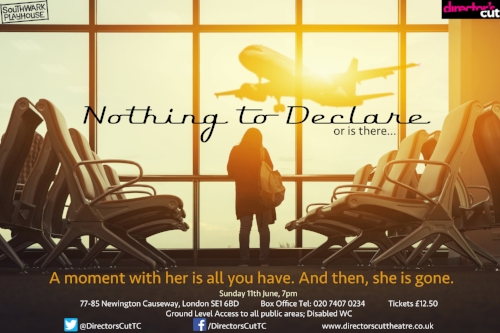 This short play was part of an evening called Nothing to Declare (Directors Cut Theatre). The brief was that a woman was travelling through Europe and writers had to imagine various meetings and encounters she had.
The Woman in the Restaurant features an unnamed woman trapped in an unhappy marriage who sees in the traveller a free spirit.
QUEENS OF DAYTIME (2017)
Comedy (15 minutes)
Characters
Bev (f)
Emily (f)
Paula (f)
Izzy (f)
Delilah (f)
I was chosen to take part in Play in a Day, produced by Emberfly Theatre. Writers were given a day to write a play. Actors and a director then had a day to rehearse it before a performance in the evening.
I was given five female actors to write for and came up with a comedy set in the world of low-rent daytime TV. A presenting pair host a daily morning show but one of them has slept with the husband of one of their guests.
Queens of Daytime was performed at the studio theatre at The Churchill in Bromley in June 2017.
BRAVE (2017)
Dark comedy (10 minutes)
Character
Phil (m, late 20s)
'They keep saying how brave I am. I'm not.'
This is a monologue about a man diagnosed with cancer who is continually told how brave he is. Except he isn't. He's scared and confused.
The idea was to use black comedy to examine a serious subject. Brave was selected by Second Sons Theatre for a night of short plays at The Bunker Theatre in September 2017.
THE TEMP (2017)
Comedy/drama (10 minutes)
Character
Russell (m, 40)
Russell has become infatuated with the new office temp Tom – he just hasn't told his wife.
This monologue tells the story of someone trapped by circumstance and convention, finally facing up to the truth about himself.
This short play was selected by Full Disclosure theatre company for Xposed, a night of LGBT themed stories, in November 2017. It was performed at Hen and Chickens in London.
GRAB 'EM BY THE CEREBELLUM (2017)
Comedy (10 minutes)
Characters
Laura (f)
Anita (f)
They've stolen the president's brain – so what do they do now?
Brave New Word theatre company had a call-out for short plays based on the theme Utopia/Dystopia and this was my response.
Two female surgeons steal Donald Trump's brain and have to decide whether they have done the right thing for the world.
Grab 'Em by the Cerebellum was performed at the Arcola Theatre in February 2018.
SKIN(NY) (2018)
Comedy/drama (10 minutes)
Character
Carl (m, 21)
Carl is turning 21 but he isn't happy. And he isn't eating.
This is a monologue about a young man suffering from body image issues and his own identity. It was performed by Dominic Jones at Xposed at Southwark Playhouse in November 2018. Produced by Full Disclosure.
DO SOMETHING! (2018)
Comedy (20 minutes)
Characters
Laura (f, early 20s)
Simon (m, early 20s)
Andy (m, mid 20s)
Yvette (f, early 40s)
They want to change the world. They just don't know why.
A group of anarchist protesters kidnap the prime minister in an attempt to bring equality and justice to Britain. The only problem is, it isn't the prime minister.
Do Something! was staged at Etcetera Theatre in May 2018, produced by Falling Pennies.
CHEKHOVIAN (2019)
Comedy (15 minutes)
Characters
Actor (m)
Man (m)
What happens when the audience don't stay in the audience?
An actor on stage is giving it his all when a member of the audience interrupts and dispenses a few truths of his own. Chekhovian was performed at Theatro Technis in March 2019, produced by Saw It Here First Productions.
#UNFRIENDED (2019)
Comedy/drama (10 minutes)
Characters
Gita (f)
Laura (f)
Gita and Laura are good friends… Until one unfollows the other on Twitter.
A two-hander looking at the modern obsession with life online. It was staged at The Tabard Theatre in April 2019 by Get Over It Productions.
THE FEMINISTS (2019)
Comedy (15 minutes)
Characters
Simon (m, late 20s)
Neil (m, late 20s)
Evan (m, late 20s)
A new theatre group wants to put women's voices centre stage. There's just one problem though… They're all men.
This comedy about woke theatre types was part of the opening night as The Front Room in Croydon was launched as a theatrical space. Produced by Wrong Shoe Productions.